Our special projects are another way to show our clients we care.  Holidays can be especially hard on our low-income residents, and we strive to meet their specials needs.
Clients receive special food bags, as well as a grocery store gift card (as donations allow), that empowers them to prepare a holiday meal. This food is in addition to what they receive in our food pantry but that's not all...
Our youngest clients receive Easter baskets filled with treats and fun surprises, and they quickly learn that the Easter Bunny stops at Valley Churches first!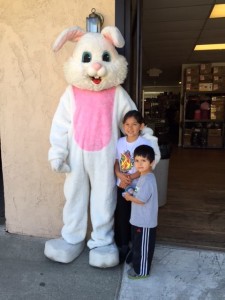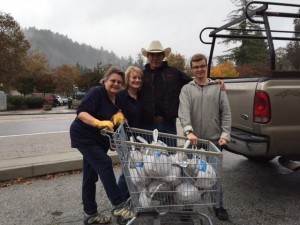 Just as with Easter, we provide special food bags, turkeys, and grocery store gift cards so that our clients can prepare a festive holiday meal.  This food is in addition to what they receive on their regular November visits.
Our big project each year is the Christmas project. Children submit their "Santa letters," which are then distributed to local banks, stores, and businesses in the form of Christmas stockings. (You may have seen these red and white Christmas stockings with first names and ages indicated.)  This process matches a child-in-need with a generous donor, who then purchases the gifts from the child's wish list, returning the gifts to Valley Churches for sorting and wrapping.
It's quite an operation—coordinating the distribution of Santa letters, matching incoming gifts with the correct child and family, wrapping the gifts, and making sure every child receives some wonderful gifts for Christmas. Over 40 volunteers work long hours beginning in November to make this annual miracle happen.
And of course, all of our clients receive a holiday food bag, some extra goodies, and a grocery store gift card to make their holiday celebration complet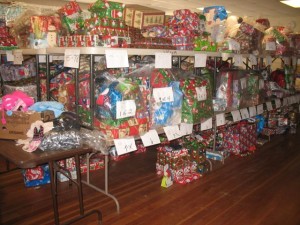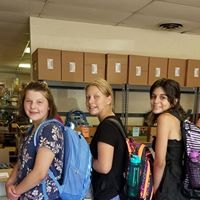 Every year, as summer draws to a close, Valley Churches United helps our school-age clients make the transition back to the classroom. For each child who qualifies, we provide a new, high-quality backpack filled with school supplies. These backpacks help ensure that our youngest clients are prepared for the classroom; the kids love the brand-names and popular colors.
Beginning in July, we hand out backpack applications to families with school-age children. To ensure that all of our recipients are enrolled in local schools, we ask parents to provide a recent report card for each child.